Do your due diligence - Do your research and homework, read an item's description, ask questions and request photos to ensure an item you are getting is as you have expected. You come across an item that you think should not be sold on Mudah. my, do not hesitate to report it to us so that it can be reviewed and removed if needed.
Opt for meet-ups so you can check your item - A perk of opting for meet-ups is so that you would be able to check and ensure that it is as you have expected, such as condition and size, before paying the seller. It's also a fun way to meet new people with similar interests and hobbies!

Be extra careful when purchasing event tickets and vouchers - When purchasing resale tickets or vouchers, be sure of its terms and condition which is usually printed on the overleaf. Certain tickets and vouchers may not be eligible for resale and could be rejected by the vendor upon the attempt to use or entry.
When in doubt, just remember the 3 C's: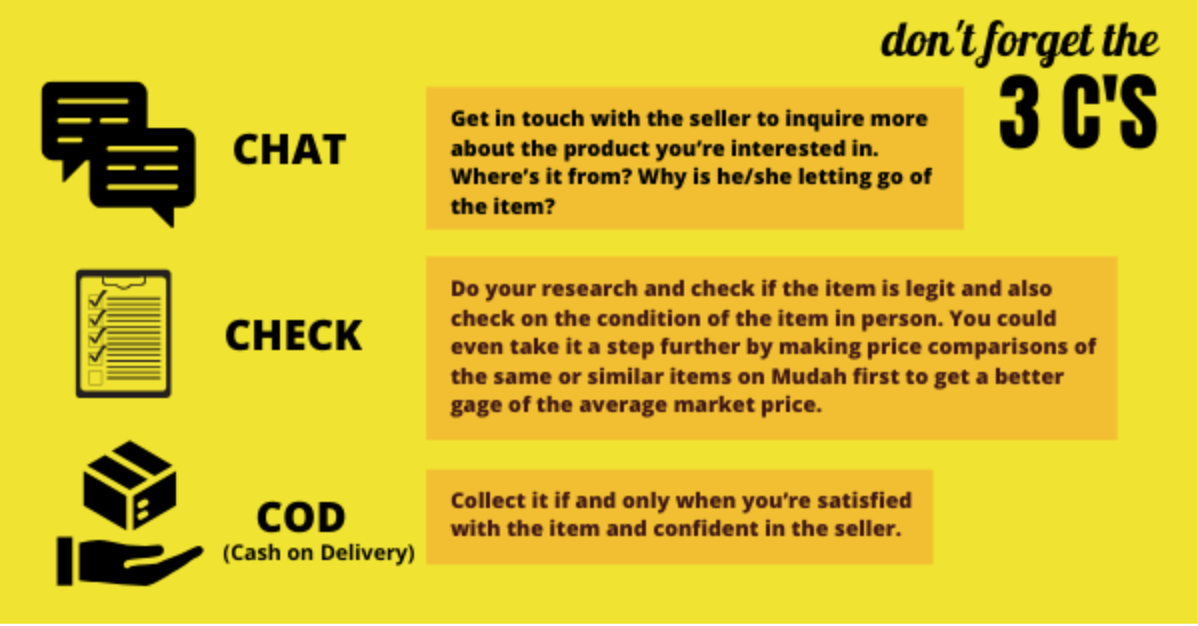 With all these tips and pointers in mind, here's to you having a stress-free and safe marketplace buying or selling experience!
When you buy ...
Never pay any money in advance, no matter how reliable the seller seems to be.
Fraudsters often provide proof of identity (IC, passport, driving license, etc.) as a "guarantee". This does not protect you against fraud or being cheated!
Postage paid by seller or registered mail is not risk-free. You have no way to verify the content of the package.
Special warning - overseas payments
Some international payment solutions offer built-in security features, such as PayPal, but this is not common. Never use these payment services- such as Western Union, MoneyGram, or BidPay- because it may be very difficult to control/stop payment through these services. Such services are also popular with fraudsters for the same reasons.
Remember ...
Never pay in advance.
Goods sent through mail can be risky.
Do not send money to a recipient in a foreign country.
Avoid using most international payment services.