We recommend you to use our Mudah.my application as a buyer or (private account user) seller for better connectivity and visible messages on the chat.
Some sellers will not provide their contact numbers on their advertisement and they wish buyers would send a chat message to them, they preferred this due to privacy purposes and to avoid call receive during their busy times. So we highly recommend that you use Chat to communicate with the advertiser.
This feature is to provide safe communications between buyer and seller while using Mudah.my.
Can I deactivate my chat feature?
No, you are unable to proceed as the chat feature is fully integrated with our user account / Pro Niaga system.
Will I be notified when I put my app running in the background?
Yes! You will receive a push notification from sellers or buyers.
I did not open my chat inbox for more than 1 hour? Will be notified?
Yes! You will be notified via email.
How do I delete my chat?
You are able to delete your chat messages by clicking the bin button.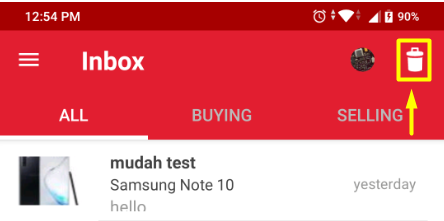 However, you are not able to delete any attachments that have been sent.
What happens if I accidentally upload a sensitive attachment?
Please write in your request to contact@mudah.my with your email address and List ID of the ad and we will assist you in deleting the attachment.
How do I mute, block, and report users?
Just go to your chat inbox
Go to your chat
In your chat, click the 3 dotted lines
You can mute, block and report users there.
Mute = You will stop receiving notification from the seller or buyer
Block = You will never receive chat messages from the seller or buyer
Report = Your report will be sent to our team to evaluate.